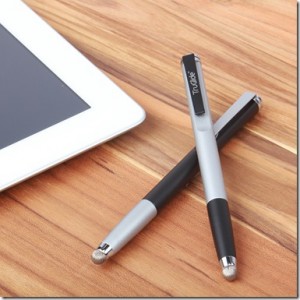 Lynktec was kind enough, once again, to provide us with one of their new products to test drive for our readers. The TruGlide Pro Precision Stylus is a new universal stylus for iPads, iPhones or any touchscreen device you may have. After using this new tool, we can recommend this as a favorite among soft-tip styluses.
The stylus tip is microfiber, which makes it super smooth and at just 5 mm, much more precise than your fingertip. In fact, we found the TrueGlide Pro to be a far better writing tool than all of the other soft-tip styluses we've tried. While artistic skills are not high on our list, this stylus is also a favorite of digital artists. According to Lynktec's website, a new conductive silk artist paintbrush tip is coming soon as an additional tip option that can be interchanged with the microfiber tip.
The TruGlide Pro is currently only available in two color options (silver or black) and it's sleek design makes it the perfect accessory for the busy executive looking for "practical and functional" or the digital artist looking for "beauty and design." At $29.99, and with a promise that "no replacement will be needed anytime soon", it may be a little pricier than most styluses, but we think the style, design and the overall performance are well worth it.