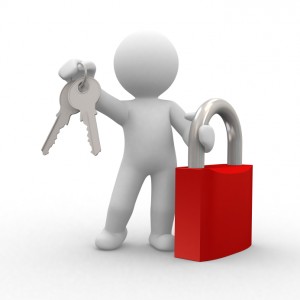 Although Macs are already very secure, there are steps that you can take to lock down your system. The ten following tips will help ensure that your system is as safe and secure as possible:
Enable Firewall :: Although there may be better firewalls out there, the one built into your Mac is sufficient for most peoples needs. To enable it, open System Preferences, select the Security & Privacy pane, select the firewall tab, and make select the 'Turn On' button. (Note: If this is greyed out select the lock at bottom to enable the settings.)
Encrypt With FileVault :: FileVault is a built in app with the roots of you operating system. It encrypts your data on the fly, this means that any data you store is inaccessible if the drive is removed and read from another computer. This is very useful if your Mac is stolen and the hard drive removed in order to retrieve the data. To turn it on, open System Preferences > Security & Privacy tab and select the  'Turn On' button on the FileVault tab.  Be aware of two potential issues: (a) it slows your Mac down when read and writing to your disk and (b) you can't decrypt your data if you forget your password.
Keep Software Up To Date :: One of the simplest things you can do to keep your Mac secure is to keep its software up to data, especially with security updates and Java updates. The app store will automatically tell you when updates are available. Each software updates fixes bugs and holes in your system, so it needs to have the latest software patches to provide maximum security.
Allow Apps From Trusted Sources :: Apple's OS X now includes a system application called GateKeeper, which ensures applications come from trusted sources. All applications from the app store are signed to ensure they are safe. Most 3rd party apps which are not sold on the app store are signed by trusted developers. Therefore, you should consider enabling at least the second option to protect yourself from untrusted apps.
Disable Java :: Java is full of security holes, and it is generally a pain to ensure that it doesn't compromise your system. If you don't use Java, turn it off.  To turn it off, open up the web browser preferences you use. In Safari go to Preferences > Security, and uncheck the 'Enable Java' tab.
Use A Non Admin Account :: One of the less obvious tricks to ensure you have the best security for your Mac is to use a non-admin account. If you create a normal user account for yourself, you will still be able to do all the things you need to, but there is an added layer of security to stop any rouge or damaging applications from running. To generate a new account, open System Preferences, select the Users & Groups pane, select the little plus button at the bottom of the list, add a new 'Standard' account. While it might be a pain to swap over all of your files from an admin account to a normal user account, the security benefits are usually worth it.
Disable Automatic Login :: If you travel with your MacBook Pro, you might consider disabling automatic login. This will stop anyone from starting your Mac and easily getting access to your files. Within login options of the Users & Groups preference pane, ensure the automatic login drop down box is set to 'Off'. This ensures you have to type a password to gain access to your user account.
Require A Password On Wake/Screen Saver :: You ought to also consider setting a password to unlock your computer when it wakes up. This means that no one can access your sleeping Mac without a password. This security setting is enabled from the Security & Privacy pane from within System Preferences. Enable the check box to require a password after sleep or disabling the screen saver. You can also have your Mac log you out automatically if you leave it Mac unattended for too long.
Disable Location Services :: This security tip also falls under the privacy umbrella. Location services tells certain applications where you are based on the GPS chip within your Mac. This means that your Mac can be pin pointed from anywhere on the globe. If you don't want people knowing where you are you can disable this feature. Open Security & Privacy from System Preferences. Select the Privacy tab. The top option from the sidebar should be an option labelled 'Location Services'. Uncheck the box that says 'Enabled Location Services'. If you don't have a device that has location service enabled, such as an iPhone or iPad, you should be ok. I don't like it enabled as it can tell too many people where I am.
Secure Empty Trash :: The last security tip is regarding emptying the Trash. When you delete any file only the pointer to the file is remove. This means the bits and bytes that make up the file are still present on your hard disk. If some clever apps you can actually read this data and rebuild the file. For the added security when deleting files use the Finder > Secure Empty Trash, menu bar option. This will overwrite the files with blank data so the original files cannot be recovered.