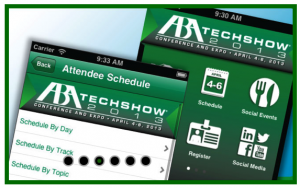 I am in Chicago this week to present several sessions at ABA TECHSHOW 2013. This marks the sixth year of the "Mac Track", and I'm honored to have been asked to speak each of those years.
The Mac Track will take place all day tomorrow (April 5th) at the Hilton across from Grant Park, and I will present the following sessions:
Making the Switch for the Mac-Curious :: Reid Trautz (former TECHSHOW chair and publisher of Reid My Blog) and I will kick things off with the first session at 8:00 a.m.  The official session description is: "

I

f you've seen a Mac, own an iPhone or iPad, or have ever been to an Apple Store, admit it… you're a bit Mac-Curious. If you are considering making "THE SWITCH," this is the session for you! Our Mac experts will walk PC users through the best hardware, software, and work-flow modifications to make this transition."

 The Super-Awesome Mac Hour of Amazement :: Victor Medina, Mark Metzger, Larry Staton and I will then close out the day at 3:45 p.m.  This session i described as follows: "

Your TECHSHOW board has scoured the universe for the best of the best; the smartest geniuses; the Masters of Mac. Marvel and be amazed as these experts demonstrate their best practices on automated form creation, gold-standard workflows, the use of document styles, and mastering PDFs! Discover how Automator and Apple Scripts turn your Mac into a thinking machine that won't try to kill you. Bring your Mac; this'll be a watch and do session!"

iOS in Action :: I will also be presenting this session, which is part of the iOS Track, on Saturday (April 6th) at 9:45 a.m. with Jeff Richardson, publisher of iPhone, J.D.  This session is described as follows: "

Are you really getting all you can out of your iPad and iPhone? In this session you'll learn how to put your iOS devices to work for you in your law practice. We'll cover tips on billing and managing your time; drafting and working with case documents, transactions, and files; and attending or hosting meetings on your iDevice. Our experts will demonstrate how the iOS ecosystem provides the best apps for lawyers. We will also discuss how iCloud keeps data synced across all your devices."
There are so many great reasons to attend TECHSHOW, including the other oustanding sessions, Taste of TECHSHOW dinners, and the EXPO hall.  If you are in the area, please make plans to attend.  If you see me there, please take a minute to introduce yourself, as I always enjoy meeting my readers.