STM has been making a variety of high quality laptop bags, packs, fitted tablet cases and phone cases since 1998.  Their website states their mission is "to come up with more comfortable, secure and stylish means of transporting your digital gear."  In fact, we have previously used (and liked) the Alley, one of STM bags for the 13″ MacBook Pro, so we were anxious to review STM's new lineup of cases for the iPad Mini – the Marquee for iPad Mini; the Grip for iPad Mini; and the Skinny for iPad Mini.
Skinny for iPad Mini
The Skinny is advertised as a "slim and sleek folio" that offers complete protection for your iPad mini. Price: $34.99
Pros: The cover of the Skinny is made of a hard shell back and front flap which is textured cloth-like, making it easy to grip when carrying. The hard shell back is lined on the inside to give extra protection to the back of your Mini – helping you avoid inadvertent scratches.  Probably the nicest feature is that all the buttons and device ports are very easy to access.
Cons: The biggest downside to the Skinny is that that front flap does not fold flat against the back when open. If you typically use your iPad while it's propped up on your desk, this may not be a problem, but if you tend to hold your Mini in one hand while reading, this make it very awkward to hold.  Another downside is the loop closure which is difficult (at best) to break-in for easy closing.  Also, because of the angle you must hold the cover in order to close the loop closure, the device does not always automatically "go to sleep" with the cover in place or automatically "wake up" when you re-open the cover.
Grip for iPad Mini
The Grip is advertised as having a "tough polycarbonate plastic with a unique soft touch finish" designed to fully protect your new device. Price: $39.99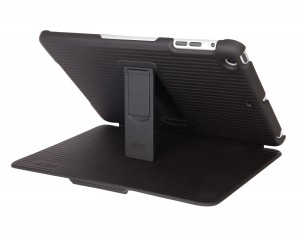 Pros: The grip texture is soft, just as advertised, even if it does have a more "plastic-y" look to it. The kickstand works as promised and is more secure than it may first seem. As with the Skinny, the Grip also has the soft lined interior to avoid scratches, and the cover closes easily and completely putting your device automatically to sleep when not in use.
Cons: This is a weightier option than the Skinny, or at least it feels that way. Further, while we loved the kickstand, women who have longer fingernails may need to get assistance in snapping it out of the cover (or risk losing a nail).
Marquee for iPad Mini
The Marquee is advertised as "premium soft touch leather" that is "slim and protective construction for a comfortable and easy carry." Price: $79.99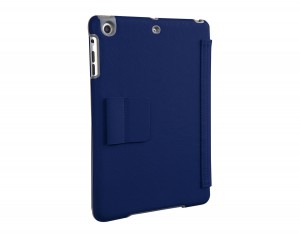 Pros: Out of the three cases we previewed, this was probably our favorite. The cover really is quite elegant and stylish , and we found it very easy to grip while holding. The front cover folds back flat, and it offers two positions for typing and viewing.  There is even a loop for storing your stylus, something not found on the other two cases.
Cons: The only con would have to be the lack of color choices at this stage. We previewed the blue cover, which was very nice, but it would be great to see other options (red, green, grey, or purple?) in the future.
Thanks to STM for providing these cases for us to review.  If any of our readers have used these cases, we welcome their comments and feedback below.