This review takes a look at JuryPad, an app for the iPad from Bench & Bar, LLC that is designed to assist litigators in conducting voir dire and quickly and easily selecting their jury.  If you are a trial lawyer who regularly works with juries, you owe it to yourself to take a look at this fantastic easy to learn and easy to use app.
In the trial screen, you set up your case, including the number of primary and alternate jurors, the number of strikes for each side, and other background information. Throughout the app, typing is reduced to a minimum by utilizing many pop-up menus for data entry. Also, there is no shortage of help for new users (including a sample trial for you to tinker with), information buttons that display overlays of each button's actions, a "Quick Guide" to get you familiarized with the app, and a link to instructional videos. 
The app also has a menu for sharing your trial database with other users of the app or to export your trial as a spreadsheet or a text file. The app also comes with a spreadsheet template if you wish to enter jury information on your laptop, PC, or Mac to later import into the app.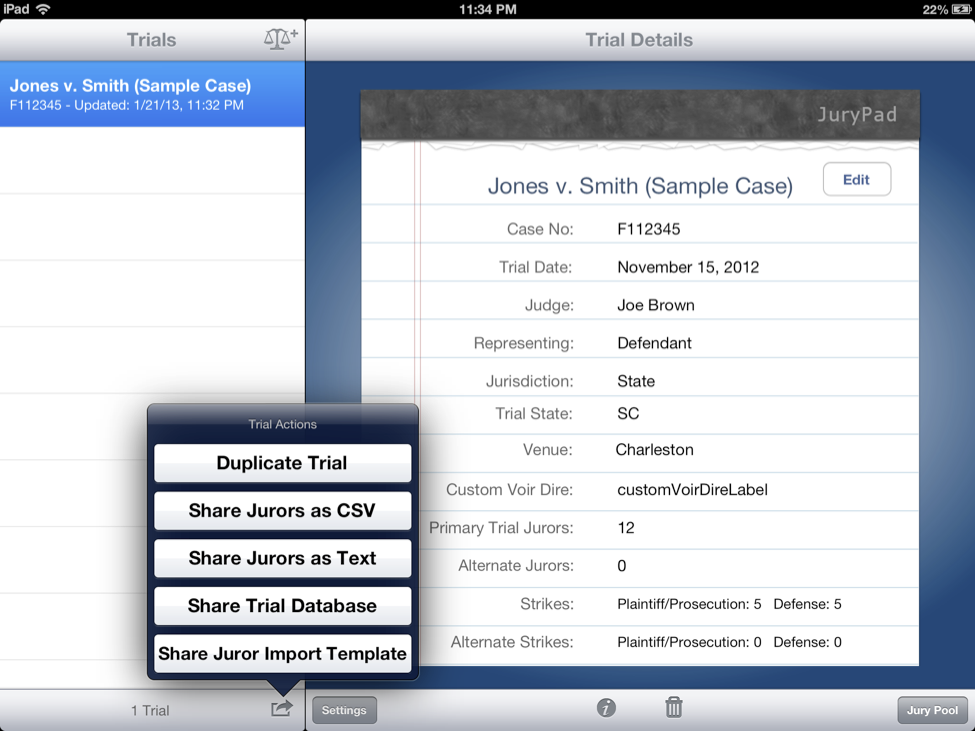 After setting up your trial, the user is taken to the jury pool screen. Here, you can view detailed information regarding each juror, and even rate your jurors on a scale of 1 to 3 or 1 to 5 stars – depending on your preference. Tapping on a juror's address will take you to Google's Street View to "virtually" tour the jurors' homes and neighborhoods.
Using pop-up menus, you can seat or strike your jurors. You can also search for jurors' details, sort your jury list by name, rating, and juror number.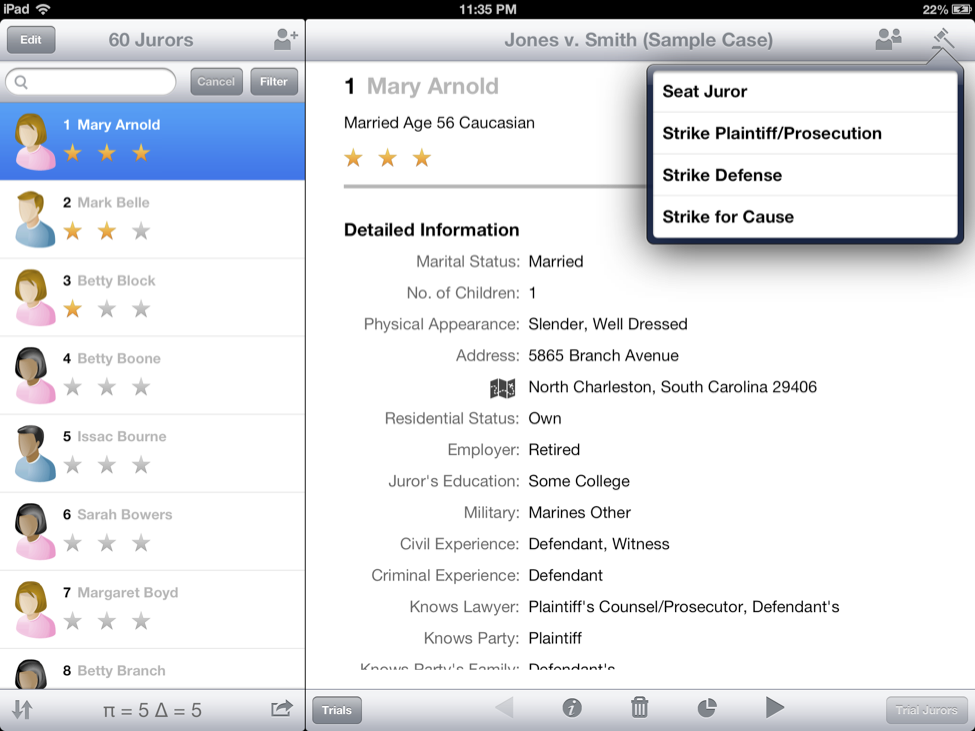 The app also lets you filter jurors to show how each party used its peremptory challenges to prepare for a Batson Motion.   Tapping on the pie chart icon will take you to a series of screen's that display various demographics of the entire jury pool.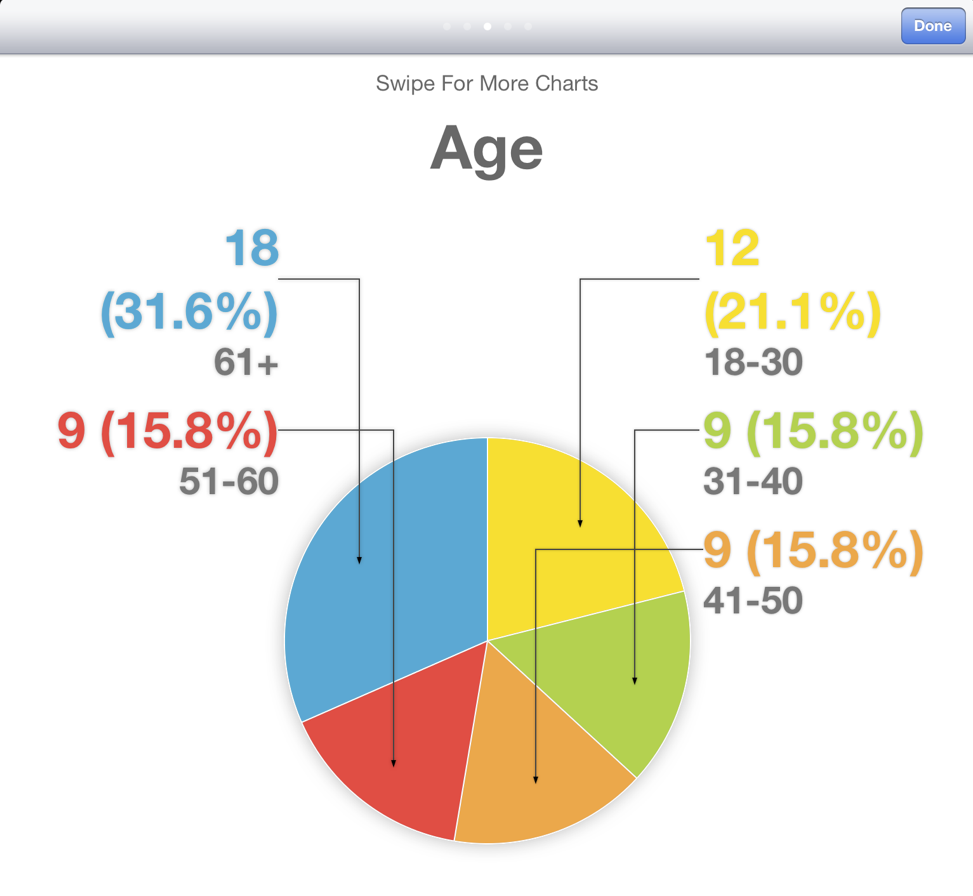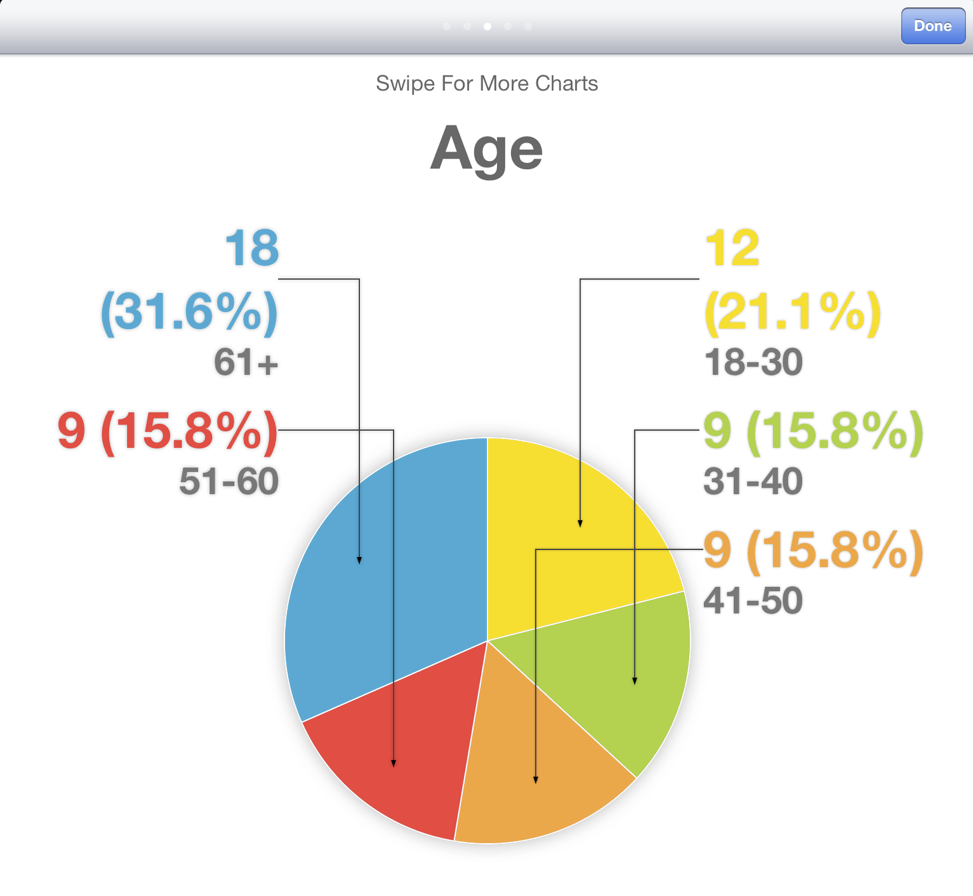 You can evaluate, seat, and strike your jury using either a jury "list" or a seating panel that you can customize to hold over 300 jurors at a time.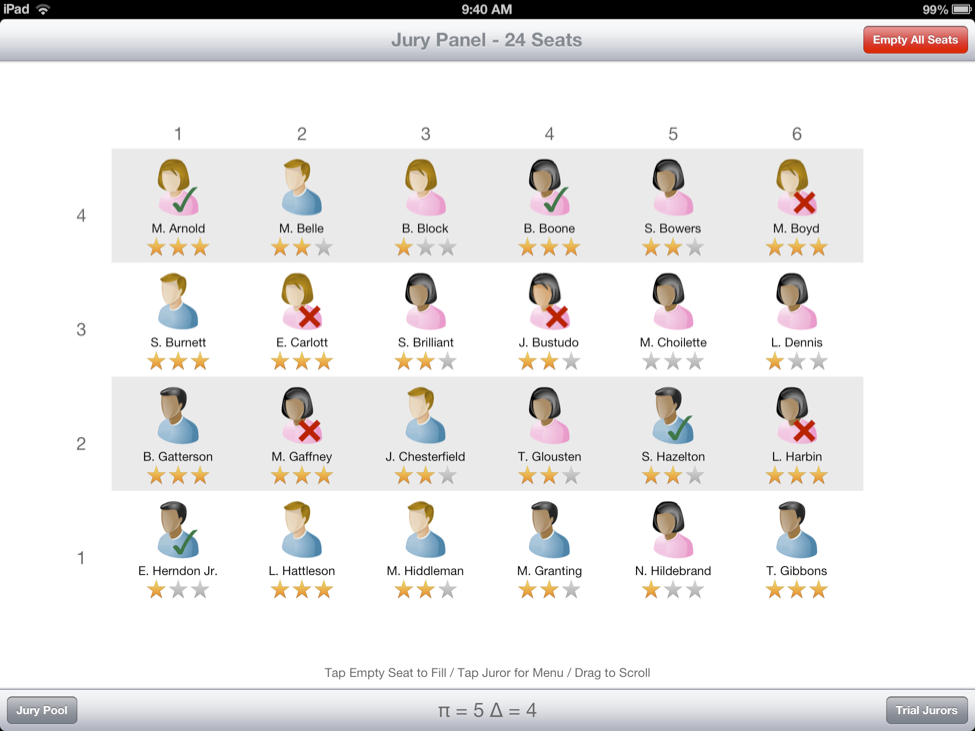 Finally, when you are done picking your jury, you are taken to the "Jury Box" where you can drag and drop you jurors into their positions for trial. You can also assign predictive badges if you want to track how receptive you believe the jurors are to each party's presentation of the case.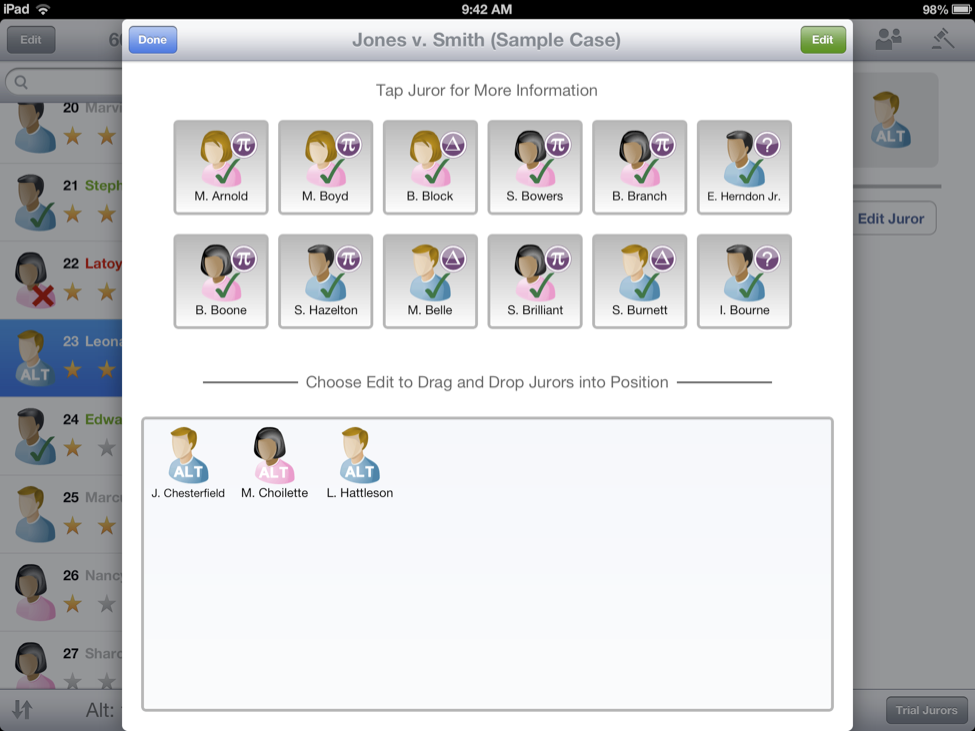 Bench & Bar will soon release an update to JuryPad that includes the ability to create and save custom voir dire questions to suit your needs at trial. Also, the app will include a "Scratch Pad" that will let you take handwritten notes on jurors if you find yourself pressed for time while evaluating your jurors.
JuryPad was developed by Bench & Bar, LLC, a company that was founded by trial lawyer and legal technologist, Stephan Futeral, Esq., who is based in Charleston, SC. It is currently priced as $19.99 on the App Store, and you can get more information here or by visiting Bench & Bar's website.