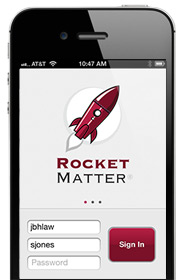 What's the best case management application for lawyers who want to maximize their productivity?  The answer for me is easy – Rocket Matter.  It's no secret that I am a big fan of this application for many reasons, but now I can add one more to the list – their iPhone app, which was released one week ago today.  I have been using this app for well over a month, and it is very impressive even in this initial version.
The app enables access (whether online or not) to contacts, case information, and calendars (with day, month, and list views), and it makes it extremely easy to enter billable time and expenses on the go.  Best of all, your data is available on your iPhone, iPad, or iPod touch, regardless of whether you are online or not.  Information recorded via the Rocket Matter iPhone app appears instantly in the web-based product, and if you enter data while offline, it automatically uploads as soon as you regain internet access.
Built natively in iOS, this app is lightening fast, rock solid, and easy to use.  Even more importantly, it keeps your data safe and secure, just like the Rocket Matter web application, as it uses the same authentication and security measures.  In other words, all data transmitted to and from the app occurs over an encrypted channel.  It also enables you to set a passcode lock on your iPhone to ensure that no unauthorized access occurs, so that if the device is stolen or lost, sensitive client information remains secure.
If you haven't checked out Rocket Matter (or you haven't done so in a while), you really owe it to yourself to do so.  The best legal case management software just keeps getting better and better.  To learn more about the specifics of this app, visit Rocket Matter's information page, or click here to download the app for yourself.