What font do you use? Why? Have you thought about it? Do you care how your documents look and how readable they are? You should.  In college, I worked in the public relations department for three years, and I learned a lot about the importance of layout, font choice, text size, etc.  Since I began practicing law 16+ years ago, I have always given great thought to which font I used, and my tastes and preferences have changed over the years. I am proud to say that my preferred font these days is "Equity", and I asked its creator, Matthew Butterick, to write this Guest Post to tell my readers a bit about his new font. I hope you find it informative and that you give Equity a try.
First, I thank Ben Stevens for inviting me to contribute a few words about Equity.
As Typography for Lawyers has evolved, lawyers have asked whether I would ever design a font specifically for legal writing. At first, my answer was no—plenty of nice fonts already exist, so why not use those? And based on that advice, many lawyers have explored the vast typographic territory beyond Times New Roman. Which is a good start.
But after a few years of thinking about the intersection of law and typography, I realized that lawyers do have some special typographic requirements that existing fonts don't account for. So Equity is the first font to be tailored to the needs of legal writers—start to finish. A few examples:
First, Equity meets the Times New Roman benchmark for length. Lawyers are sometimes reluctant to consider other fonts because most of them don't fit as many words per page as Times New Roman. But the overall length of text set in Equity is almost identical to Times New Roman.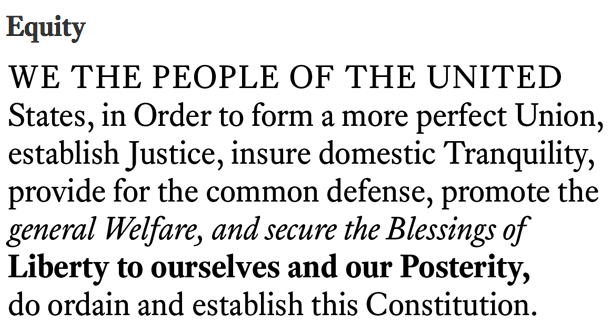 Second, not only does Equity have real typographic small caps—in both regular and bold weights—but they're already letterspaced according to my recommendations in Typography for Lawyers, making it more convenient to use them.
Third, because office printers don't all print text the same way, Equity comes in two weight "grades"—one slightly lighter than the other—so you can pick the one that works best with your printer. This is a feature found in very few text fonts.
Fourth, unlike nearly all professional fonts, you can embed Equity in word-processing documents. So if you collaborate on documents with other lawyers, they'll be able to see your documents formatted in Equity.
And how does it look? My goal was to give Equity the warmth of traditional letterpress printing without being stuffy or quaint—a blend of classic and contemporary.
Equity has quickly become indispensable in my work as a lawyer, writer, and typographer. I'm very pleased with how it turned out. I hope others find it as useful as I do.
You can download PDF samples of Equity at http://equityfont.com. A one-person license is $120; up to five people is $240.
About the Author:  Matthew Butterick is an attorney, designer, and writer in Los Angeles. He is the author of the website and book Typography for Lawyers (Jones McClure Publishing).