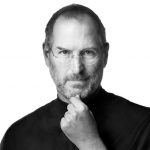 Steve Jobs passed away earlier today. I am deeply saddened by his passing for many reasons. I believe that he was a genius in almost every sense of the word – and those who know me are well aware that I use that very rarely and very carefully. Mr. Jobs led an extraordinary life, and it is one that has inspired and continues to inspire me.  He literally affected hundred of millions of people and made their day-to-day lives better – and he will continue to do so for generations.
Apple posted the following tribute tonight: "Apple has lost a visionary and creative genius, and the world has lost an amazing human being. Those of us who have been fortunate enough to know and work with Steve have lost a dear friend and an inspiring mentor. Steve leaves behind a company that only he could have built, and his spirit will forever be the foundation of Apple."
If you have not yet seen the commencement address that Steve Jobs gave at Stanford University back in 2005, please take a few minutes to view it below.  Rest in peace, Mr. Jobs.  You were a revolutionary genius; you changed the world; and you will be deeply missed.  You were the Thomas Edison of our time, and I suspect there will never be another like you.